Stana de Vale is a tourist holiday resort in the heart of Apuseni Mountains at 1102 altitude nearby Apuseni Natural Park.
The settlement was originally developed due to Izvorul Minunilor, a spring with amazing water qualities.
The weather favours winter sports, thus a small ski slope was arranged. The tourist attractions are diverse during both summer and winter. Unfortunately, the potential of the area is yet to be fully exploited.
History of development – owing to an inspection in 1882 coming from Padis, Mihai Pavel the bishop of the Greek-Catholic Church, made his abode in this depression finding rest at the shepherds' fold.
He liked the surroundings very much and built the first construction nearby today's police barracks. In 1883 the first accommodation construction was built (it had 9 rooms), followed by the first restaurant (Elisabeta), and then other villas for accommodation.
True development occurred in 1884 when Bihor County made the Budureasa – Stana de Vale road, which cost 40000 days of work.
The name of Stana de Vale is well tied with the name of the nature explorer from Arad, Czaran Gyula, who made his abode there in 1892. He promoted a series of hikes in the surroundings, thus helping towards the development of the area.
In 1932 a 42-km railway with narrow (98 cm) track gauge was built from Stana de Vale to Iadului Valley. This turn created the access from Bulz and Cluj.
The biggest accommodation construction built in the golden age of Stana de Vale resort was Excelsior Hotel. It had 56 rooms, a restaurant for 150 people, and apartments with bathroom, hot and cold water, and lighting. Unfortunately, this hotel has burnt to the ground, and the building that was later built is now in disuse.
One of the most important buildings and well kept is "Casa Adapost (Shelter house)" – built in 1933 by the Bihor Tourist Club with the support of bishop Traian Frentiu.
In 1928 Stana de Vale receives the rank of holiday resort by the Ministry of Health and Social Protection. In 1936 the University of Cluj built a weather station there.
At the time in Stana de Vale we could have found there a police station, bazaar, barber shop, photo workshop, telephone, and during the high season, a permanent doctor.
Access: from Beius (27 km) > Budureasa > Stana de Vale.
Winter activities at Stana de Vale resort
Skiing – the only slope has 550 m length and has an elevation difference of 100 m. The slope is equipped with a chair lift. The conditions aren't exactly good, the slope is not arranged by a snow groomer, there are no snow cannons, and the ski wirings are old.
You will encounter skiers, people riding sledges and occasionally snow-mobiles on the slope.
If we were to recommend the resort for a particular kind of activity, it certainly wouldn't be for slope skiing.
Ski touring – due to the fact that mass tourism isn't well-developed, the area nearby is quite wild, perfect for ski touring. You can ski to Poieni Peak, Buteasa Peak or Eagles' Area for one-day hikes.
You can cross either on skis or snowshoes to Padis-Arieseni or Vladeasa Peak.
One of the main attractions of this area is Izvorul Minunilor (Wonder spring). It's a one-hour hike (round trip) from the centre of the resort. For the experienced ones, we suggest ascending Poieni Peak – it is an easy hike.
Be careful when travelling by car in winter – your car must be properly prepared for winter conditions. It is not uncommon that due to the winter conditions the road is impassable.
Summer activities at Stana de Vale
Cycling – we recommend the forestry route Stana de Vale – Valea Iadului (5-hour round trip) towards Lesu Dam. You will cover a beautiful and impressive area with gorges. Cycling is best, since the route is too long for a walk and too beautiful to travel by car.
Another option is cycling on the route Baia Popii – Poieni Peak – Bohodei Peak – Poiana Varasoia – Padis – Boga – Beius (6-hour one way). The only problem is getting your car back from Stana de Vale. A pleasant but tiring route could be cycling from Bucureasa to Stana de Vale resort.
Hikes – there are plenty of marked routes, highly accessible for tourists. You can hike towards Padis tourist area, Iadolina Waterfall, Saritoarea Iedutului Waterfall, Valul Miresei Waterfall, Dracului Waterfall (near Buteasa Peak), towards Meziad Cave, Bohodei Waterfall (a longer and more difficult route).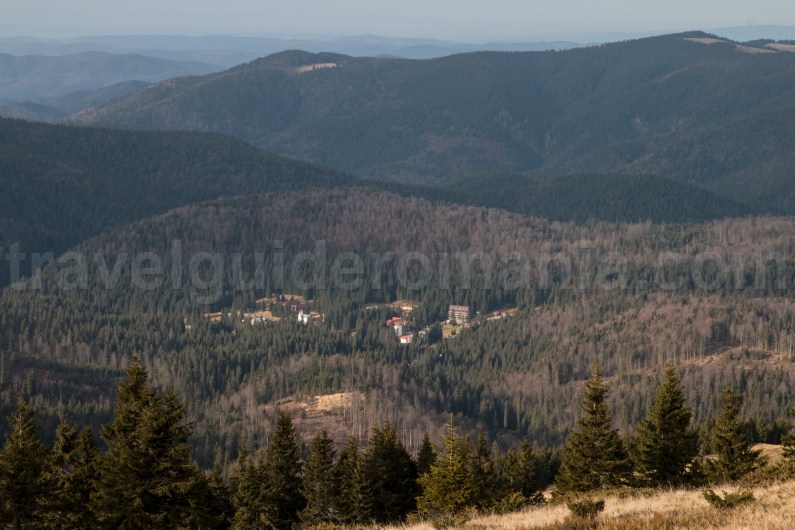 In the neighbourhood of Piatra Calului Peak there are plenty of herds and flocks so during summer you can purchase bio dairy products.
Adventure routes (Bohodei Waterfall Circuit) – for those tourists who are experienced in rock-climbing.
Climbing routes – under Bohodei Peak, at the granite walls, climbing routes of about 2-4 rope lengths were arranged. In order to cover those, you need necessary equipment and expertise.
Advices:
– Buy maps on-line or from the specific shops. You cannot purchase a map of the area in Stana de Vale.
– If you have any difficulties, call 112 – national emergency number. There is a rescue team available during weekends. There is one information point on rescue team at the base of the slope.
– Take clothes against rain – this area is considered the pole of precipitations in Romania – the resort is famous for its high annual rainfall quantities.
Accommodation: there are few accommodation options: Iadolina Hotel, cabins in Iadolina Complex (quite expensive), cabins near the slope (belonging to Iadolina Hotel, but do not having their own bathrooms), or a few personal villas.
Things we liked
– Due to the small number of tourists, the area is wild and quiet.
– Cross-country skiing, trail-running, cycling, and hiking are perfect for the area.
Things we didn't liked
– Although it is a resort with tradition, the conditions and activities for leisure time (especially in the evening) are highly limited, almost inexistent. You can say that in the last 20 years, the resort has not evolved at all.
– On some tourist markers there are indicators stating that you cannot move further due to hunting activities. We consider this private initiative to be against tourist development.
– During winter near Poieni Peak, Eagles' Area, there are many snow-mobiles, which unfortunately travel at high speeds and without regard for pedestrians. If you hear snow-mobiles approaching, do not hesitate to stand aside. Romania is the only country in the European Union in which snow-mobiles travelling on mountain paths are not forbidden!
Afterthoughts: Stana de Vale is the right place to go if you want to find rest and quiet and the experience of mountain hikes. If you want to find social entertainment, you will definitely get bored here.
Pentru versiunea in limba romana