Arieseni Resort is located in the heart of Apuseni Mountains, in a land called Tara Motilor, and is one of the few areas developed for skiing in north-western Romania.
Vartop Ski Area within Arieseni Resort is found at an altitude of approximately 1200 m.
General data: the ski area is comprised of three separate ski slopes: Piatra Graitoare Ski Slope, Vartop I Ski Slope, and Vartop II Ski Slope.
Unfortunately, the card system is not available for all three ski slopes; therefore you ought to purchase your tickets for each ski slope separately.
Location: Vartop ski area is found within Arieseni Resort, in the Bihorului Muntains, subdivision of the Apuseni Mountains. Vartop tourist area is found near the border of Apuseni Natural Park.
Access – by car:
from Beius City ~50 km: Beius (E79) > Stei > Lunca (turn left – DN 75) > Campani > Vartop Resort.
from Alba Iulia City ~117 km (DN74) > Abrud (drive on DN75) > Campeni > Arieseni > Vartop.
You can travel by bus or coach regularly from Oradea, Beius or Alba Iulia.
Accommodation: the myriad of guesthouses interweaving the resort offer great prices ranging from 70 RON/double room to 200 RON/double room, depending on the desired comfort level of amenities. You must be careful, though, that the price is not always set according to the quality of its services. Unfortunately, Arieseni is one of the localities where tourism was chaotically and uncontrollably developed, without any regards to aesthetics and urbanism.
Accommodation and Reservation in Vartop
If you choose to accommodate yourselves at a greater distance, you must pay attention to the rush hour when tourists come and go from the ski slopes. We suggest you set off as early as possible; there are days when you can waste a lot of time in traffic.
Parking lot: except for Piatra Graitoare Ski Slope, the other two slopes do not have a parking lot. You will have to find a parking place to the side of the road. An employee of the Arieseni town hall will charge you 10 RON/day. We suggest asking for the parking bill.
Vartop Ski Slopes
Piatra Graitoare Ski Slope – is the latest developed slope in this area. It was officially opened in 2010. 
Length – 1095 m long.
Equipment – the ski slope has a chair lift with a capacity of 1400 persons/hour; ascending it takes approximately 4 minutes.
Elevation difference – the base of the slope is at 1189 m altitude and the landing station at 1445 m. A descent on either two options sums up an elevation difference of 256 m.
At the base of the slope there is a small restaurant where you can get warm or eat a meal during your ski break.
Skiing options – as you descend, there are two skiing options that fork at about 200 m from the start.
You can either descend on the red ski slope, or on the black ski slope. On the upper part of the ski slope, the inclination degree is pretty low, thus making it a bit boring in the beginning. The steep part on either option is quite short.
 The slope has night gear, enabling you to ski in the afternoon. Although the altitude is not that high, due to its orientation, you will be amazed by how long period of the ski season is. On this ski slope, sledding is forbidden.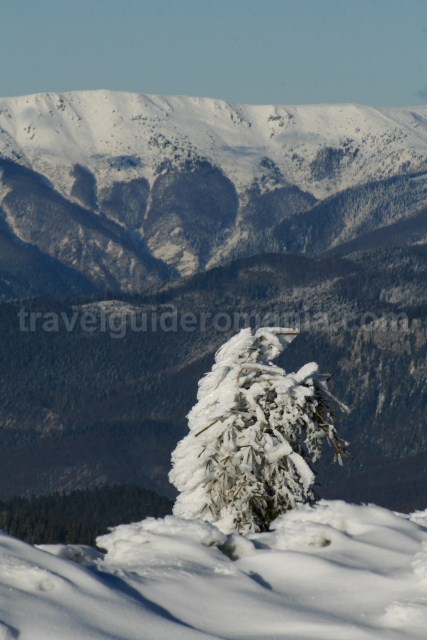 Opening hours:
Tue-Thu: 10 am – 4 pm
Fri-Sat: 10 am – 8 pm and Sun: 10 am – 5 pm
Pricing – one lift/descent – 7 RON/adult,4 RON/kid;
6 lifts – 40 RON/adult, 23 RON/kid;
12 lifts – 75 RON/adult, 43 RON/kid;
18 lifts – 105 RON/adult, 61 RON/kid;
24 lifts – 135 RON/adult, 77 RON/kid;
30 lifts – 150 RON/adult, 90 RON/kid.
Passes with 18, 24 and 30 lifts are available for 7 days. You can purchase passes with 2 days of unlimited lifts (200 RON) or 6 days of unlimited lifts (400 RON).
Useful information – you will not find any ski instructors on this slope. In case of an accident, call the emergency number 112. A mountain rescue team patrols the slope during opening hours.
Vartop I ski slope – is found at the border of Bihor and Alba counties.
Equipment – there is a ski lift starting from 1150 m.
Length – 1000 m and the elevation difference is 240 m. It is a medium difficulty ski slope, and the upper part is not recommended to beginners. Ice usually forms in this area.
Pricing – 5 RON/lift.
Opening hours – Mon-Sun: 10 am – 7 pm.
At the base of Vartop I and Vartop II there are a plethora of kiosks and restaurants there you can eat a meal during your ski break.
Vartop II ski slope – is recommended for beginners – this is where most ski instructors work in the Arieseni Resort.
Length – 430 m and an elevation difference of 100 m. Despite being small, the slope has night gear and snow cannons.
Pricing – 3 RON/lift.
Rentals – you can rent a full gear for approximately 40 RON at the base of the ski slope.
For those of you who want to get out of the ski slopes – you can travel by foot, in a hike towards Ruginoasa Hole (the route starts from the exit of the resort, towards Stei City) or Piatra Graitoare Peak.
The route towards Piatra Graitoare is found as you continue the road leading to the ski slope bearing the same name. From the peak area – 1557 m you will be able to see the entire Beius Depression.
Even if you do not have racquets or ski touring gear, usually there is a path in the snow. On condition that you set out, we recommend telling somebody about your trip. Take with you warm liquids and ski poles.
Do not set out without mountain boots and wind/rain jacket.
If you are a ski touring practitioner – one of the most beautiful routes covered is Vartop-Bihorului Peak (1848 m), the highest peak in Apuseni Mountains. The scenery is amazing during the fine weather. If you are lucky you can see a sea of clouds, in other words you will be one level above the clouds which cover the depression.
The route is quite long, although the peak seems close. From Piatra Graitoare and back it is a total 6-hour walk. We do not recommend this route without snow racquets or ski touring gear, because the snow can be quite high (even over one metre). The course in such snow can be exhausting.
If you are mountaineers you can camp in wintertime near Piatra Graitoare peak and ski on the wild slopes nearby.
If the ridge route is found in the clouds or mist, we do not recommend continuing on it, since the ridge has a quite large width, and you can easily get lost.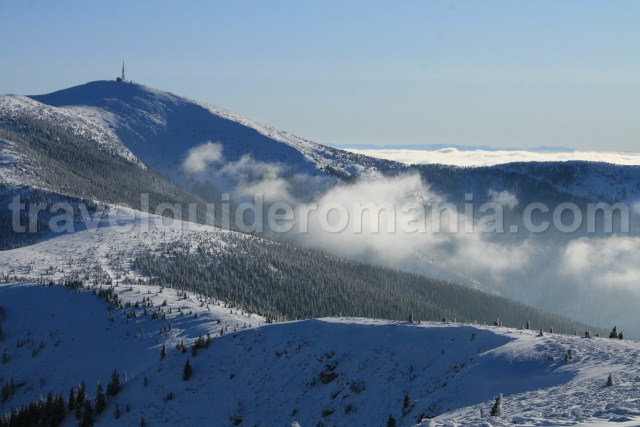 In summertime – Arieseni resort is more and more visited due to the touristic objectives in the area.
Bicycling in the Tara Motilor, the multitude of tourist markers and the cultural objectives found in the area attract more and more tourists.
We advise you not to miss on the following objectives: Sighistelului Valley, Ruginoasa Hole, Bihorului Peak, Padis, Garda Seaca Valley, Tauz Spring, Scarisoara Ice Cave, Ionele Cave, Vidra Snail Hill, Avram Iancu Memorial House, Patrahaitesti Falls and Patrahaitesti Hamlet.
In the area you can find traditional handicraft workshops in tulnics, dowry chests and wooden objects.
Pentru versiunea in limba romana