The Apuseni Natural Park is a protected area on the territory of the mountains which bear the same name (Apuseni Mountains) created to preserve the ecological, karstic, and cultural diversity of the area. This park's peculiarity is undoubtedly given by its geology, the karst which enabled the formation of important, underground, hollow places.
Location – Apuseni Natural Park is situated in western Romania, in the central to north-western part of the Apuseni Mountains. It's spread across a part of the Bihor Mountains (south) and Vladeasa Mountains (north), in the administrative territory of three counties (Cluj 40%, Bihor 32%, Alba 28%).
General Description: the Apuseni Natural Park contains the administrative territories of 16 communes and the properties of other 25 communes. As for the number of communities, the Apuseni Natural Park fully contains 53 localities and 3 holiday villages (Boga, Fantanele and Vartop), partially another 8 localities on the outskirts of the park.
Access points in the Apuseni Natural Park area:
The road between Fanate Village – Albac Village: Oradea > Beius > Stei > Fanate > Garda de Sus > Campeni (European Highway E79, DN 75)

Pietroasa locality: Oradea > Beius > Pietroasa > Boga (E 79, DJ 763) > Padis (113 km)

Rachitele Village: Cluj > Huedin > Rachitele.

Chiscau Village: Oradea > Beius > Rachitele. (83 km)

Sighistel Village: Oradea > Beius > Stei > Sighistel. (92 km)

The road between Belis Village and Albac Village: Cluj Napoca > Huedin > Belis > Fantanele Lake > Poiana Horea > Albac.

Garda de Sus Village: Oradea > Beius > Stei > Garda de Sus. (130 km)

Arieseni Village: Oradea > Beius > Stei > Arieseni. (122 km)
Geology: The Apuseni Natural Park belongs to the Apuseni Mountains which are the smallest with regards to surface among the rest of the Carpathians and the shortest (maximum altitude 1848 m). They have great geological complexity which gives an extraordinary picturesque variety, a rather peculiar hydrological network, various soil types and rich flora and fauna.
The Apuseni Mountains, idiosyncratic due to their picturesque karst scenery, remarkable both for its surface and variety of forms. The karstic areas have a distinct morphology and hydrology, stemming from the rocks' water solubility.
The karst's key trait is the development of an underground hydrological network from which stems a plethora of terrestrial and underground microforms.
Above ground karstic phenomena are the dolines, shallow funnel-shaped valleys (whose waters seep through limestone), karstic plateaus, dry valleys, lapies, poljes – large elliptical depressions in karst regions with underground drainage (Poiana Ponor), and gorges.
Fauna – if you could try to keep quiet in this specific mountainous area, you might encounter chamois – black goats, Western Capercaillie – Wood Grouse, foxes and even bears.
After latest evaluations it was found that in the Apuseni Natural Park live 26 wolves, 12 lynxes, and unfortunately only 21 bears.
Recommended activities in the Apuseni Natural Park:
Summer Trek: in the Apuseni Natural Park area there are 35 touristic tracks accessible to anyone who is properly dressed for trekking. Here are some touristic markers:
Red Stripe marker – Stana de Vale – Varasoaia Glade – Padis Lowland – Balileasa – Focul Viu Glacier – Florilor Glade – Dry Valley – Ruginoasa Hole – Vartop – Piatra Graitoare – Bihorului Peak (47 km).
Blue Stripe marker – Boga holiday village – Paltinetul Hill – Bohodei Peak – Poienii Peak – Baia Popii Ridge – Stana de Vale.
Yellow Stripe marker – Stana de Vale – Izvorul Minunilor – Canton Ciripa – the Ridge between Sutanu Valley and Moara Dracului Valley – Stanisoara Glade – Piatra Talharului = Onceasca Glade – Piatra Arsa – Varasoaia Glade.
Yellow Stripe – Stana de Vale – Fericii Plain – Ferice Knoll – Ferice Village.
Blue Cross marker – Stana de Vale – Saua Cumpanatelul – Alunului Cave.
Red Dot marker – Stana de Vale Resort – Poienii Peak – Piatra Arsa.
Blue Triangle marker – Stana de Vale – Saua Bohodei.
Blue Stripe marker – Vladeasa Lodge – Saua Intre Munti – Nimaiasa Peak – Micau Peak – Gardul de Piatra – Piatra Apa din Piatra – Batrana Peak – Calineasa Glade – Ursoii Glade – Catun Ocoale – Scarisoara Lodge – Ordancusii Valley – Garda de Sus.
Specialized tour guide – contact info:
Cave Tourism – because caves play an important role in connection to the Apuseni Natural Park, you can find all there is to know on the subject here.
Canyoning – the good routes for canyoning are found in the Padis area. These are Galbenei Canyon, until the Evantai Waterfall, Oselu Canyon (neighbouring Boga holiday village); Dry Valley Canyon (neighbouring Arieseni holiday village), Rea Valley Canyon (upstream of Sighistelului Valley).
For specialized tour guide – contact info.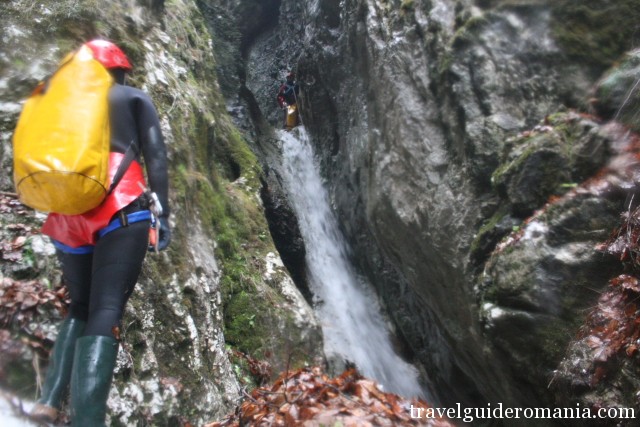 Rafting and kayaking on fast streams – on Crisul Pietros river, on Aries river and Dry Garda valley.
Climbing and escalations – there are arranged routes for escalations in the Poiana Ponor area. Other climbing routes are found at Boga – Piatra Bulzului, Vartop – Pietrele Negre, Garda de Sus – Valea Ordancusii and at Bohodei peak.
For those of you with a minimum experience in climbing we recommend Bohodei waterfall Circuit – a route specially equipped with metal cables on dangerous sections.
For specialized tour guide – contact info.
Winter Trek: because the slopes in Apuseni Mountains aren't so steep like in other mountains in Romania, almost the entire tourist routes that you can make in summer it could be made in winter as well. We suggest you don't venture without the appropriate equipment and considerable experience regarding the mountains.
Off-track skiing and ski touring – can be practiced at almost every touristic marker. You have to keep in mind that the marker's visibility is slim during wintertime because most of the markers are buried under snow. If you don't have a GPS tracker or you don't know the route, we recommend you don't venture into the unknown.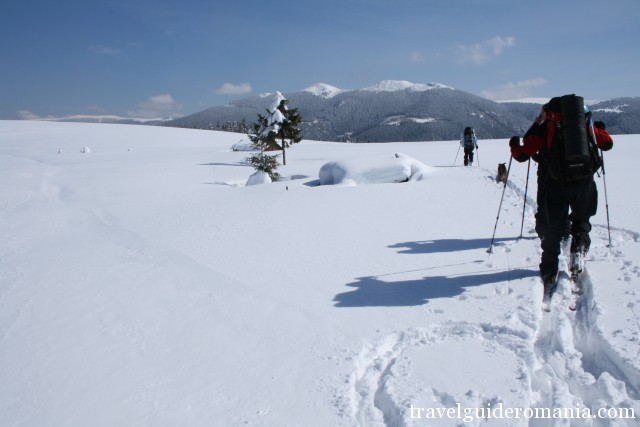 Alpine skiing can be practiced in the Apuseni Natural Park, at Arieseni Ski Resort, Stâna de Vale Resort or the Marisel Commune, Cluj county.
Recommended sightseeing objectives in Apuseni Natural Park (must see):
Ruginoasa Hole – a ravine with the diameter of 450 m and a depth of 100 m, formed due to water erosion. 
Padis Tourist Area, with its main objectives – Cetatile Ponorului Cave, Galbena Valley, Focul Viu Cave, Ponor Glade, Cetatile Radesei Cave.
Sighistelului Valley Tourist Area + Portile Bihorului Cave.
Garda Village Tourist Area – Scarisoara Ice Cave, Vartop Cave, Poarta lui Ionele Cave, Ordancusei Gorge.
Vladeasa Tourist Area – Valul Miresei Waterfall, Vladeasa Peak.
Stana de Vale Tourist Area – Saritoarea Iedutului Waterfall, Valul Miresei 2 Waterfall, Poienii Peak, Bohodei Waterfall.
– Chiscau Tourist Area – Ursilor Cave, "La Fluturi" ethnographic museum, Chiscau.
– Fantanele Lake Tourist Area
Accommodation: at the pensions and guesthouses neighbouring the visited area in Padis or Boga resort.
Encampment in Apuseni Natural Park camping area.
There are 5 camping sites (Glavoi Glade, Padis Lodge, Sighistelului Valley, Ic. Ponor area, Runcu Ars area). They aren't yet utilised with toilets, shower cabins, organized dumping system, fences, parking lots etc.
Advice for a successful trip in the Apuseni Natural Park
for better spatial orientation, we recommend buying tourist maps where all the tourist routes and major sightseeing objectives in Apuseni Natural Park are written.

if you decide to spend night sleeping in the tent, we suggest coming properly equipped with a waterproof tent, especially since this is an area well-known for its considerable rainfall.

even if you come during summertime, don't hesitate bringing waterproof and warm clothes (temperatures  in the night can drop to +5°C)

if you come by car, try to pick up wood for the fireplace, before reaching the camping site. Here you won't find any due to the great number of tourists.

while on the track, always take your map, compass, light (some routes pass through caves – e.g. Cetatile Ponorului)

if you have health and orientation problems, call the emergency number of 112 and you will be given connection to the Rescue Team in the area (Serviciul Judetean Salvamont, Salvaspeo BH)

if you have any other questions regarding the routes, do not hesitate to ask the mountain rescuers. In Glavoi Glade area the Mountain Rescue team has continuously patrols during summertime.
Useful information:
– access in the Apuseni Natural Park is free of charge;
– there is no camping fee in order to spend the night sleeping the in tent (exception: Sighistel area)
 Pentru versiunea in limba romana