Trekking 3 – A 5-day trip in the highest massif in the country – Fagaras mountains. You will have the opportunity to trudge the first two highest peaks in the Romanian Carpathians: Moldoveanul Peak (2545 m) and Negoiul Peak (2535 m). You will reach the third peak of over 2500 m: Lespezi Peak (2522 m).
Accommodation can be done at a cabin, a shelter or tent, depending on your preferences and availability to adventure.
Details:
Day 1 – Set out for Balea Cabin, or the camping site near Capra Lake, from the city (there is mutual consent regarding the city from where you will be picked up).
Day 2 – The second day's objective is reaching the second highest peak in Romania: Negoiul Peak (2535 m). You will cover a part of the main ridge of the Fagaras Mountains; the first leg of the journey is Lespezi Peak (2522 m).
We will pass by Caltun Lake, which offers an unforgettable view of the mountains. Next we will ascend abruptly in an area equipped with chains for the tourists' safety (Strunga Doamnele) finally leading us to Negoiul Peak. We will return through the same route. Estimated duration: 8-9 hours.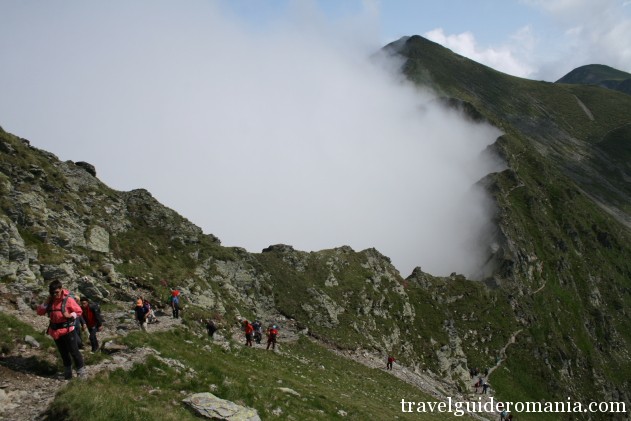 Day 3 – The third day's objective is setting out for Podragu Cabin (if you decide spending the night at the cabin) or the Vistea shelter, in order to reach Moldoveanul Peak (2545), the highest peak in Romania. We will set off by covering another distance of the main ridge in the Fagaras Massif.
The route starts from Capra Ravine and continues towards Capra Glacier Cauldron. Then ascend the Arpasul Mare Peak (2468 m), eventually reaching Lake Podragu.
Day 4 – Ascend Vistea Mare Peak (2527 m) and Moldoveanu Peak.
Day 5 – Set off for the city (the location is mutually decided) by descending the mountain, passing by Turnuri Cabin or Sambata Cabin.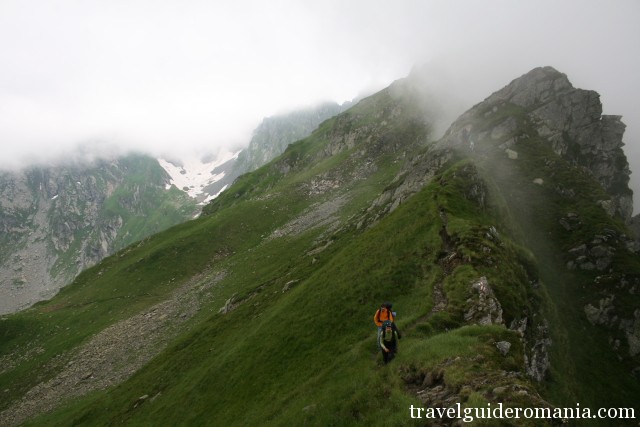 Details regarding the expedition:
Best time to travel is June-October;

Between 1-7 participants;

The final price depends on the number of participants;

The price includes: guidance, transportation, tent (in case of camping) and cabin accommodation. In case of cabin accommodation, food can be included.
Pentru versiunea in limba romana