Caving is a multidisciplinary science dealing with the complex study of caves and underground living creatures. Its purpose is the exploration and research of caves and their preservation.
Geo-morphologically speaking, the underground cavities fit into two categories: caves (horizontal cave passages) and potholes caves (vertical cave pits).
Classification by the degree of difficulty
First degree – tourist caves (show caves);
Second degree – horizontal caves or with slopes, gorges, pitches that don't require special equipment. These caves can have slow and shallow streams with no danger of flash flooding.
Third degree – caves or potholes caves whose altitude sum up to tens of meters and special equipment is required, as well as knowing rope techniques (used for descending verticals with a rope). They can be active (with water) but with no danger of water being funnelled due to flash flooding.
Fourth degree – active caves (with an underground river) or potholes caves whose altitude sum up to hundreds of meters. There is the danger of water being funnelled in, the water stream is dangerous and unavoidable – swimming is mandatory. In this category fall lengthy caves, for which bivouacking (sleeping in a cave) is necessary for a complete coverage.
Fifth degree – partially or totally flooded caves – for their coverage, special equipment and diving techniques are indispensable.
Going through horizontal caves does not entail complex equipment, only good physical and mental fitness. You need certain coverage techniques, which ease up movement and avoid excessive fatigue.
You can inure these techniques by intense activity in the underground and you build them up through your experience as a caver.
Individual equipment used in horizontal caves
The helmet is indispensable in speleology. It protects you against falling rocks, slips and falls. It is important to have it made according to the safety standards set by the UIAA (International Climbing and Mountaineering Federation), to be light, but resistant, and to have a lock system. Its most important feature after safety is its lighting system mounted on top of it.
Lighting system – up until recently the most commonly used system for illumination was based on acetylene (burner mounted on the helmet plus a carbide lamp). Since 2013, it is forbidden to use an acetylene gas lamp inside a cave in Romania. The electrical source of light (frontal) is a very good alternative.
Important aspects concerning the electrical headlamp
– Low electricity consumption gives the headlamp a better autonomy in time;
– Follow the rule which states the need of having two independent headlamps. In case a frontal headlamp gets damaged in the process, it is important to have a second one independent of the first (working on a different battery);
– It's preferable to have at least one lamp mounted on the caving helmet. When covering narrow galleries and passages, please avoid tearing the cinches of the frontal headlamp.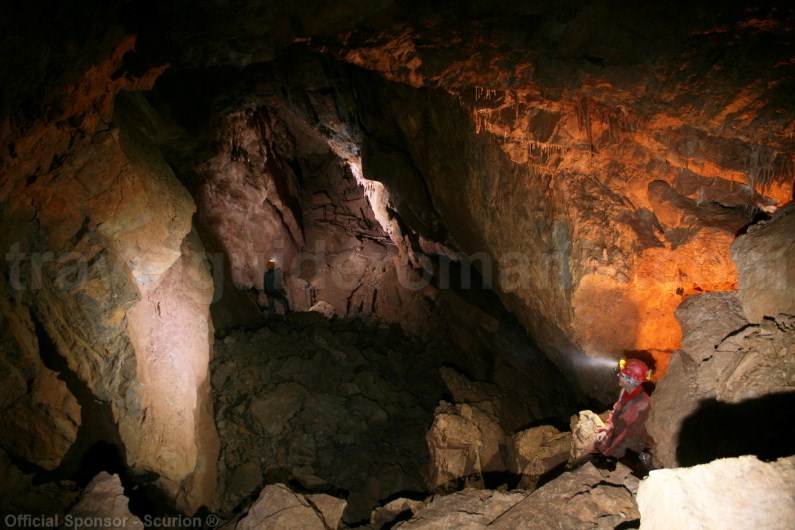 Caving suit – their role is to protect the caver from cold, humidity, mud and scratches. It's a one-piece garment. It has to fit the caver perfectly, but to allow him/her to move freely.
It is important to allow them to bend their knees and raise their hands easily. It would be great to have padded areas for the knees, buttocks, and elbows.
Caving under-suit – ensures thermal comfort. It's a tight one-piece garment. The fabric has to be warm, light, comfortable, and not lose its features when wet. A great solution is polar fleece.
Footwear – the proper shoes for caving are rubber boots. They have good adherence on rocky soil and they protect against humidity and mud. It is advisable to be 35-40 cm high in order to use them when covering underground water streams that do not have heavy water flow. Socks – for a good thermal comfort, use wool socks or synthetic fabrics which maintain their thermal properties high when wet.
Gloves – you need to protect your hands from humidity and the ever-present dirt found in caves. The joints can become stiff or numb from overexposure to cold water. Although apparently the use of gloves burdens the caver when using the equipment and when climbing, these inconveniences can be overcome.
Protecting your hands is undoubtedly a necessity. The gloves used for caving are made of rubber, waterproof, highly resistant to wear and tear and long enough to cover the sleeves about 10-15 cm.
Individual equipment plays an important role, because every piece of garment that creates discomfort can lead to an unsuccessful trip or even to accidents. Thermal protection creates comfort and efficiency when caving.
When we are going in a horizontal cave with underground big water streams the suit and under-suit is replaced with neoprene wetsuit.
The wetsuit can be of two types: wet (it allows a thin layer of water to permeate) and dry (it doesn't allow water to permeate). The latter is used for diving.
In caving trips with no diving you ought to use the wet neoprene wetsuit. In the caves found in Romania where the water temperature doesn't go above 8°C, the recommended suit thickness of 5 mm. This kind of neoprene allows you to swim even in colder waters.
You can choose a two-piece suit: trousers and blouse, resulting in 10 mm thickness surrounding your vital organs. The advantage of having a two-piece suit is that in case of warm water, you can use only the neoprene trousers. Many speleologists practice canyoning, thus making the neoprene suit indispensable as their individual equipment.
In a cave with underground water streams, replace the wool socks with neoprene socks (5 mm). These can be used in caves where water flow can reach above the boots' height. In such caves, using neoprene gloves is highly important, since it is extremely comfortable for the speleologist.
You can use an inflatable boat for covering a cave with an underground water streams or lakes if you don't want to use a neoprene wetsuit. This solution is highly influenced by the morphology of the passages and galleries.
Even if a cave is horizontal (no vertical passages where a rope is needed), it can still be extremely difficult. You can encounter obstacles such as: gorges, ascending/descending passages without ropes, pitches, slopes, a lot of mud.
Despite being a preponderant horizontal cave, it can have significant elevation levels, e.g. -200 m, +300 m. The galleries can be high, low, resembling fissures, meanders, a complicated route or mazelike.
Important rules when covering caves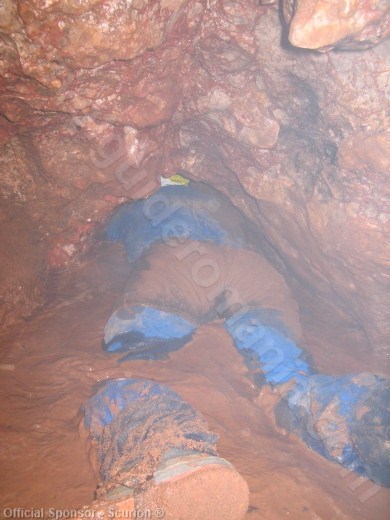 – Do your homework about the area and the cave you want to visit;
– Find out the weather for the day (especially if the cave you are covering has an underground water stream and there is danger of a flash flood).
In case a flash flood occurs, never get out before it ends. Wait for the water level to decrease;
– Establish the team members according to your objectives and cave difficulty. The minimum number of participants for a caving trip is 4
– Get the necessary approvals in order to visit the cave (depending on the area);
– Inform a specialised person or mountain rescue in your area about your schedule.
– Comply with the visiting schedule you set beforehand, together with the exact time when you are supposed to get out of the cave. Contrariwise, the persons in charge who are outside might panic and assume an accident occurred if you don't get out on time.
Pentru versiunea in limba romana