Crossing the Ridge of Fagaras Mountains is truly a challenge. The main ridge is 70 km long in a straight line.
The journey over the ridge between Turnul Roșu and Rudărița Canton with all the ascents and descents has about 80 km long and an elevation gain of 5800 m.
You have to pass eight peaks of over 2500 m. The average altitude of the ridge decreases towards the central area only once under 2000 m. The highest peak is Moldoveanu – 2544 m.
The route implies good organization, good weather conditions, and fitness.
The alpine route starts from Turnul Roșu and ends at Rudărița Canton.
TGR will present the crossing of the Ridge of Făgăraș Mountains from west to east, dividing the route in several segments. Thus, the effort will be reduced significantly. Every segment constitutes a day.
The average duration/day for the crossing should be 5-7 hours depending on your pace. You must take into account taking a break every 2 hours.
The pace we consider for this trip is of medium level.
Crossing the Ridge of Făgărăș Mountains entails strenuous effort and great mental stamina spanning over a few days.
The record set for crossing the ridge is 13 hours and 18 minutes done in trail running style.
The success of the walk is most likely depending on the load you are carrying.
The load depends on several factors:


Where will you be sleeping? In a tent or shelter? There are no shelters in the first part of the route (starting from Turnul Roșu). The first shelter you will encounter is at Scara. The route (Turnul Roșu–Scara) is quite long and cannot be covered in only a day at a normal pace.

Another aspect would be the vacancies in these shelters. During summer, the ridge is trodden often and there's a chance you might not get a place to sleep. Therefore, we suggest bringing a tent. The alternative would be getting a bivouac bag.
Food: it should be as light as possible. For this reason, we suggest bringing food that you can cook with a gas burner. Do not bring canned food and jars!

The TGR teams usually eats instant soup (great for rehydrating!), pasta (you can quickly boil it and it's full of carbohydrates, giving you energy throughout the day), parboiled rice, cheese, and ham. Bring sweets that you can eat while on the move.

Try to think of the menu before the trip. That way you will be able to assess how much food you will really need. For snacks, we usually make sandwiches to eat for a few days.
Equipment: a wind & rain jacket and trousers are essential. We suggest wearing waterproof boots. A poncho can protect you and your rucksack against rain. Trekking poles are extremely helpful while backpacking. The sleeping bag should be comfortable till 0-5°C.

Even if it is summer, the temperatures can drastically drop at any given time. It's better to even have a pair of gloves and a hat.

It's extremely important that every member has a source of light and thermal blanket.
Useful information for crossing the Ridge of Făgăraș Mountains:
All the shelters in the Fagaras Mountains are open for all tourists. The accommodation is free. No booking. First come, first served basis. There are no personnel, so you'll have to tidy up before you leave. Do not litter, do not leave food behind. The shelter capacity is 8-20.
Generally there are springs near shelters.
Camping outside the perimeter is prohibited. Camping is allowed only in the area neighboring shelters. The only place other than shelters where you can camp on the main ridge is at Lake Capra.
If for bivouacking (overnight) and in case of emergency, you can sleep wherever you can if the terrain permits.
In case of emergency, you can call 112 – the national emergency telephone number. You will be redirected to mountain rescue in your area.
We recommend crossing the Ridge of the Făgăraș Mountains in the following manner:
Step 1:
Option A: setting out from Turnul Roșu (380 m alt.) till Corbului saddle (1568 m alt.). Follow the red cross marker. 
From here you will carry on till Scara shelter in a single day, with no need to have a tent on you. The setback is that you will not cross the ridge in its entirety. The area between Turnul Roșu and Surului saddle can be quite unspectacular and dull.
The duration of the route between Sebeșul de Sus (end of the village) and Suru shelter is about 3-4 hours.
Step 2:
Option A: from Corbului saddle you will intersect with the red stripe marker  that you will follow to Scara shelter.
Both options have Suru saddle as a common point.
The next objectives to pass in this day are Budislavul Peak > Lake Avrig > Gârbova Peak > Scara Peak > Scara shelter.
Step 3:
Route: continue on red stripe marker
 : Scara shelter > Șerbota Peak > Custura Sărății > Negoiu Peak > Doamnei Pass (Ladi's Pass) > Lake Călțun/Călțun shelter.
It is one of the most technical day in crossing Făgăraș Mountains. You will cross Custura Sărății Ridge.
Custura Sărății is quite steep with rough ground equipped with chains. There are many areas where you need to climb different passages. A big rucksack might hinder you.
The exit from Custura Sărății will bring you the ascent of the second highest peak in Romania – Negoiu Peak.
From Negoiu Peak you will descend towards the cauldron of Lake Călțun.
There are two options: through Doamnei Narrows (Lady's pass) or Dracului Narrows (Devil's pass).
We suggest taking Lady's pass, since there are rock falls at Devil's pass that could lead to accidents.
Step 4:
Route: continue on red stripe marker
 : Călțun Lake > Lăițel Peak > Paltinului Peak > Iezerului Peak > Lake Capra.
Step 3 and Step 4 can be covered together, but we don't recommend it. It'd be too much of an effort in a single day. You can camp at Lake Capra, it's allowed. You can even rest a day here if you want or it's bad weather.
If you need you can descend to Lake Bâlea for food supplies.
If you don't have a tent to stay at Capra lake, you will have to continue till Fereastra Zmeilor refuge.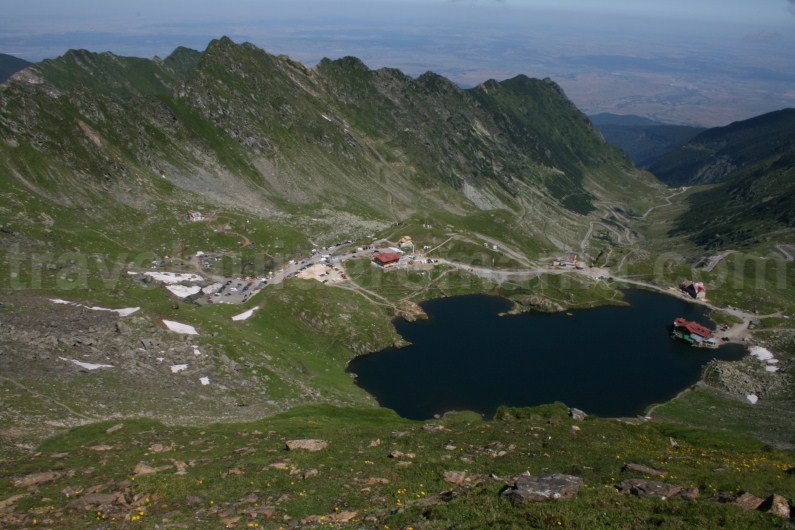 Step 5:
Route – continue on red stripe marker
 : Lake Capra > Fereastra Zmeilor (a near-death experience) > Mircii Peak > Lake Podu Giurgiului > Podragului Saddle > Orzânelei Saddle > Viștea Peak > Moldoveanul Peak (optional) > descent towards Viștea shelter.
The route for this day is quite long, but not difficult. The only area with climbing is Fereastra Zmeilor (above the cauldron of Lake Capra).
Ascending Viștea and Moldoveanul peaks is quite long. Moldoveanul Peak is the highest peak in Romania – 2544 m.
Step 6:
Route – continue on red stripe marker
: Viștea shelter > below Gălășescu Mare Peak > Fereastra Mică a Sâmbetei (Small window of Sâmbăta) > Fereastra Mare a Sâmbetei (Big window of Sâmbăta)> Iezerul Peak > La Fundul Badei Peak > Dara Peak and Hârtopul Darei (optional) > Zarnei Saddle shelter.
It's a long day with great distance, but little elevation gain.
We suggest ascending Dara Peak and Hartopul Darei. These two peaks belong to Top 14 Highest Peaks in Romania.
Step 7:
Route – continue on red stripe marker
: Zarnei Saddle shelter > Zarnei Peak > Ludișor Saddle > Vadului Saddle > below Berevoescu Mare Peak > Comisul Peak > Rudărița Canton.
This area of the Făgăraș Mountains is duller and broader. Most people who cross Făgărașului Ridge stop by at Fereastra Mare a Sâmbetei (Big window of Sâmbăta) and descend via Sâmbata Valley.
If you want to cross the ridge in its entirety, you have to know that you have to do all the above mentioned steps.
For those of you who wish to bed at lodges (e.g. Barcaciu, Negoiu, Balea, Podragu, Sambata), this endeavor entails a lot of effort. You would have to descend the main ridge every day down at the cauldrons where the lodges are located and ascend again the next day to continue the journey.
The whole crossing of the Ridge of Fagaras Mountains entails strenuous effort, which requires a lot of willpower, organization, fitness, and luck when it comes to good weather.
Pentru versiunea in limba romana