Travel Guide Romania puts forward a description of the karst found in Romania, of speleology and practical tips for those willing to visit this country that is abound in scenic karst.
The Romanian karst- Although the limestone rocks is spread over a relatively limited area (4500 km/~2800 miles) out of Romania's overall surface (237500 km/~147575 miles), there are over 12000 caves and their variety and scenic passages are overwhelming.
History – although we find reference in the specialized literature dating from 1767, speleology truly blossomed since 1920, when the well-known Emil Racoviță established in Cluj the world's first Institute of Speleology.
Soon after that, caving clubs were set up and this movement peaked in popularity in the 70s and 80s.
The setup of the Romanian speleologists
Romanian Speleology Federation has been established on the 28th of May 1994. There are 47 affiliated associations at the moment, in which Romanian speleologists take action.
There is a great diversity in Romania in terms of the community life, with plenty of events that take place throughout the year that allow you to interact with fellow speleologists.
The most important national events are: The National Congress of Speleology  and The National Contest of Artistic Speleology.
The schooling of these speleologists in terms of alpine technique, knowledge regarding the karst, cartography and biospeleology is done through The Romanian School of Speleology.

MAIN KARSTIC AREAS IN ROMANIA
Rodnei Mountains (Munții Rodnei) – Although abound in the crystalline schist, limestone has engendered the formation of important caves spread over 4 km/~2,5 miles: Izvorul Tăușoarelor Cave, Iza Cave, Zalion Gutter, Zânelor Den.
Piatra Craiului Mountains (Munții Piatra Craiului)  – this karstic massif over 2000 m high shelters one of the greatest speleological wonders: Colții Grindului Cavern (Avenul din Colții Grindului). Other caverns and dens: Vlădușca pothole, Dambovicioara cave, Mare cave from Pestera village, Valea Cetății cave. The latter is near Râșnov and has been recently arranged for tourists. 
Mehedinți Mountains (Munții Mehedinți) – The existing endokarst contains over 600 caves, and many of these have a great scientific importance and splendid scenery.
Banatului Mountains (Munții Banatului)
Reșița-Moldova Nouă area is Romania's widest undivided surface abounding in karst. The myriad of caves and coves are medium and small-sized, without peculiarity.
The Comarnic Cave (Peștera Comarnic) is best known, spreading over 5.2 km/~3.2 miles and is in fact a hydrological perforation that can be wholly visited, entering through Ponicova Cave (Peștera Ponicova) and exiting through Comarnic Cave. The monumental chambers and the splendour of the stalactites & stalagmites are the cave's main attractions.
Bihor-Vlădeasa Mountains (Munții Bihor-Vlădeasa)
The karst here is by far the most complex, intricate and developed in the entire country. With over 1000 caves, numerous highlights of the karstic environment can be found here. Many of them are found on the surface of Apuseni Natural Park
Although it is impossible to classify each and every one of them, we will try to at least mention some: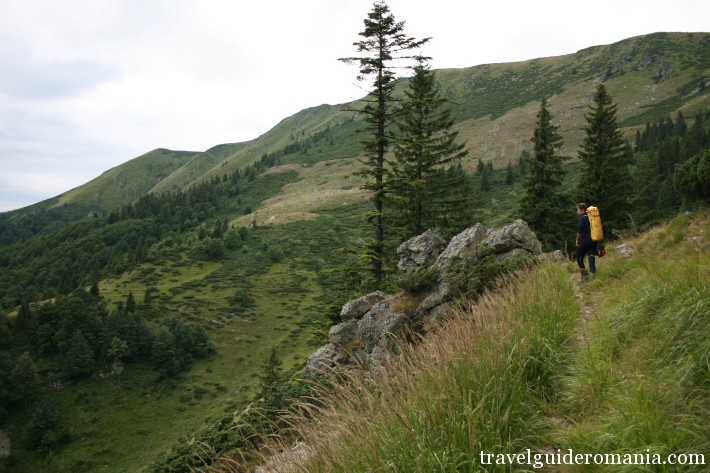 1. Scărișoara Ice Cave is arranged for tourists. It shelters an ice deposit of 75000 m3 and is Romania's greatest underground glacier. Dating from 1847, many scientific volumes have been written regarding this glacier and since 1933 it is considered a natural monument.
2. Humpleu-Poienița Cave System – it spreads over 40 km/25 miles with a ruggedness of 314 m set in gigantic chambers. The underground river is truly special and the speleothems made out of calcite crystals make this cave a most unique one.
3. Piatra Altarului Cave is considered Romania's most beautiful cave. The entrance is prohibited due to Apuseni Natural Park's attempts of preserving this natural environment as authentic and untouched as possible.
4. Cetățile Ponorului Cave is Romania's most grandiose karstic phenomenon. It has an entrance of 76 m high, at the base of a wall that is 150 m tall, with a gallery of over 1700 m and a height of 80 m, with a myriad of lakes, waterfalls and brooks. 
5. Valea Rea's Cave – is spread over 16 km/~10 miles and a ruggedness of 372 m, with well-developed speleothems (of gypsum and aragonite) that make this cave one of the most important cave in Romania's karstic environment.
Pădurea Craiului Mountains (Munții Pădurea Craiului) – although the height of this mountains is quite small, they are part of the karstic phenomen named elevated karstic plateau. They shelter over 1300 caves and potholes.
1. Vântului Cave (Wind Cave) with a length of 42 km/~26 miles, it is Romania's longest cave. It is like a multi-storey labyrinth, sheltering an extraordinary diversity of speleothems. 
2. Ciur Ponor-Toplița de Roșia System with a length of 20 km/~12.5 miles and a ruggedness of 228 m, this cavern is Romania's greatest hydrological perforation. At -180 m, the cave can be explored only with diving equipment. 
3. Ciur Izbuc Cave is important due to its archaeological patrimony: it shelters traces of the prehistoric man (more than 100), the activity of the cave bear, archaeological fragments and fossils.
Top 10 the longest caves in Romania
1. Vantului Cave; Padurea Craiului Mountains – 42165m lenght
2. Humpleu – Poienita Cave; Bihor Mountains, Apuseni Natural Park– 36600m lenght
3. The cave from Paraul Hodobanei – Bihor Mountains, Parcul Natural Apuseni – 22142m lungime
4. Topolnita Cave – Mehedinti Mountains, 20500m lenght
5. Ciur Ponor – Toplita de Rosia Cave, Padurea Craiului Mountains – 20150m lenght
6. Varasoaia system ( V5 -V24 caves) – Bihor Mountains, Apuseni Natural Park, 19250m lenght
7. Izbucul Tausoare Cave – Rodnei Mountains– 18107m lenght
8. Valea Rea Cave – Bihor Mountains, Apuseni Natural Park – 16357m lenght
9. Zapodie – Neagra system caves, Bihor Mountains, Apuseni Natural Park – 12048m lenght
10. Sura Mare cave – Muntii Sebesului, 11123m lenght
Top 10 deepest caves & potholes from Romania 
1. Varasoaia Cave system ( V5 -V24 caves) – Bihor Mountains, Apuseni Natural Park, -653m depth
2. Coltii Grindului depth, Piatra Craiului Mountains; -561m depth
3. Izvorul Tausoarelor cave, Rodnei mountains; -461m depth
4. Sura Mare cave, Sebesului mountains; + 425m 
5. Valea Rea cave, Bihor mountains; – 372m depth
6. Dealul Secaturii cave; Bihor Mountains; -366m depth
7. Stanul Foncii pothole; Padurea Craiului Mountains; -339m depth
8. Humpleu – Poienita system caves; Bihor Mountains; -314m depth
9. Jgheabul lui Zalion cave; Rodnei Mountains; -303m depth
10. Sancuta cave; Padurea Craiului Mountains; -295m depth
Romania's show caves for tourists – Bihor county fosters at the moment the best caves that have been arranged for tourism: Bears Cave, Meziad Cave, Vadul Crișului Cave, Ungurul Mare Care and Farcu Mine Cave.
Other caves in the same touristic circuit: Scărișoara Cave, Polovraci Cave, Bolii Cave and Muierilor Cave

Visiting procedures of caves in Romania
In Romania the caves are classified due to their speleological value estimated as following:
Class A – caves of utmost importance due to scientific interest or their peculiarity of resources and they count as national and international speleological patrimony.
Class B – caves of national importance that come to the front through their size, rarity or resources and touristic potential.
Class C – caves of local importance, protected for their geological, hydrological, historical significance or for their scenery and size.
Class D – caves that don't meet the requirements to be included in A, B or C.
According to the legislation, all the caves need permit from the Committee of Speleological Patrimony, an organ empowered by the Romanian Government to write approval notices for tourists to visit the caves.
If you desire to visit a cave in Romania that isn't a show cave, you MUST:
1. Consult the the list of caves that contains the ones that need extra safety measures.
2. If the cave is found on the aforementioned list, you must obtain a permit from the Committee of Speleological Patrimony, by filling out the attached application.
3. After you receive the permit from the Committee of Speleological Patrimony, find out whether or not the cave you want to visit is on the territory of the national and natural parks of Romania or near the protected areas (Natura 2000 Protected Area). If so you must obtain a permit of visitation from the park in question.
4. If the cave is found in the Bihor, Cluj, Hunedoara or Arad areas, you must obtain a permit from the Salvaspeo Mountain Rescue Team.
In some cases, on obtaining one of these permits, the necessity of future permits will be stated.
The release deadline of the permits from the Parks or Committee of Speleological Patrimony for the visiting is maximum 30 days after the completion of the application.
For specialized tour guide in caves of Romania – contact info

Pentru versiunea in limba romana