The Retezat Mountains (Munții Retezat) are among the most noteworthy natural beauties of Romania. Due to its rich biodiversity, most part of this massif has been set up in 1935 as a National Park.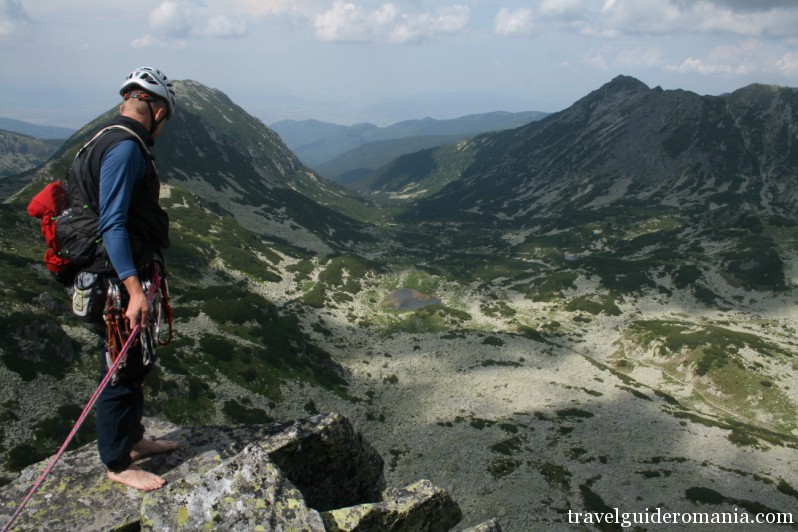 Travel Guide Romania recommends that if you were to find yourself in Romania and you wanted to see its true beauty, you ought to unhesitatingly visit the Retezat massif.
Location: the Retezat Mountains pertain to a greater mountain belt, the Southern Carpathians (Carpații Meridionali), and are surrounded by countless hollows and valleys that facilitate road access through the mountains.
Major characteristics: the Retezat Mountains fall into two major groups:
 –   The Limestone Retezat (or The Small Retezat), a massif with lower altitudes compared to The Central Retezat. The scenery is impressive due to its manifold caves, dens and gorges. The beautiful peaks' height vacillates around 2,000 meters. The highest peaks are: Piule Peak (2,080 m) in the eastern extremity and Stănuleții Mari (2,032 m) in the western extremity.
    -The Central Retezat (herein described) consisting of the highest peaks (2 peaks ranging over 2,500 m, 9 ranging over 2,400 m and 20 ranging over 2,300 m), has the vastest network of valleys and glacier lakes. It is the mountain belt considered by specialists as the highest elevated in the country, with its average height of over 2,350 m.
Geology: in geological eras, in the Ice Age, a cooling of the climate has brought about a certain accumulation of great amounts of snow and ice over this mountain belt. The snow and the ice have later shaped, gouged and chiselled a series of landforms: valleys, calderas and glacial tarns.
This process of shaping has been undergone by all the mountains, especially by the highest (of Romania): Făgăraș, Retezat, Parang, Rodnei Mountains etc.
Access: starting points towards the Retezat Mountains:
Sarmizegetusa (530 m), on the DN 68 and on the Caransebeș-Subcetate Railway (16 km/~10 miles to Hațeg), is the nearest railway towards the foothill (~5 km/~3 miles).
Rîu de Mori (500 m), a town situated 19 km/~12 miles of Hațeg. The route DN 66 to Sîntămăria-Orlea (through Unciuc) can be taken by bus/coach as well. From Rîu de Mori you can hike the Rîușorului Valley (forest road) and then through the pathway to Pietrele Lodge, or through Brazi (2 km/1.2 miles) on the Clopotiva-Gura Apei forest road.

Nucșoara: (637 m) a forest road that breaks off DN 66 at Ohaba de sub Piatră (10 km/7.5 miles to Hațeg and 38 km/23.6 miles to Petroșaniș; a CFR way station) through Sălașu de Jos, Sălașu de Sus and Mălăiești (12 km/17.5 miles). Buses/coaches reach Cîrnic in the summer season. From Nucșoara you can hike to Pietrele Lodge.

Hobița: (534 m) on Bărbat River valley, located on the forest road that breaks off from DN 66 at Pui (30 km/18.6 miles from Petroșani, 19 km/12 miles from Hațeg, CFR train station). There are 6 km from Pui to Hobița.
Retezat National Park regulations:
– The admission price is 10 RON for 7 days and the tourists are advised to keep their admission ticket for that period of time. All persons of age under 14 are not required a ticket.
– The admission tickets or receipts can be acquired from: Nucșoara Visiting Center, Gura Apei, Codrin Lodge (Carnic), Pietrele Lodge.
– The trash bins can be found at the entrance of the park and littering is not permitted.
– Camping is forbidden outside the recommended zone.
– Fire is strictly forbidden inside the Retezat National Park according to the law.
Camping and accommodation:
– Guesthouses – the offer is only available for those tourists who decide to stay at foothill. For reservations, you can access one of the following contacts listed here.
– Travel Guide Romania advises everyone who wants to learn about the true beauty of the Retezat Mountains to camp either outside (Carnic, Pietrele, Poiana Pelegii, Buta and Bucura) or in lodges (Gentiana, Pietrele, Buta, Gura Zlata).
Outdoor activities:
– Trekking – the entire massif is permeated by accessible pathways for all tourists. By purchasing a map of the Retezat Mountains, you will surely manage to orient yourself; the signs and markers are in top notch condition. Due to the great tourist feed, these markers are maintained permanently by the rescue teams.
– Climbing – The Central Retezat, especially Bucura I Peak, Bucura II Peak and Peleaga Peak are saturated by climbing tracks, but are recommended only for intermediate practitioners. To access these trails, no notice is needed, only technical expertise and special climbing equipment. For more research we recommend this site.
– Ski touring – because there are no arranged ski trails, the only option to ski is that of practicing ski touring coupled with winter mountaineering. Only intermediate practitioners of ski touring and winter mountaineering ought to take these trails.
– Trail running – is a new sport in Romania that is rapidly spreading. One of the greatest national contests takes place right here in the Retezat Mountains. See here.
Must see! Travel Guide recommends some rather important places to sightsee: Bucura Lake, Zănoaga Lake, Galeșu Lake, Retezat Peak, Peleaga Peak, Păpușa Peak.
Recommended equipment: for those who want to explore the pathways and trails, don't wander off without the minimum equipment: hiking boots, raincoat, torch, rucksack, warm clothing (even in the warm season temperature drops to 5°C/41°F on rainy days or chilly nights).
For an enjoyable stay, it is advisable to come equipped with a portable cooking burner and a small gas tube, (you are not allowed to light fire in the park), a sleeping bag and a tent.
Food: due to the fact that the Retezat National Park is a wild reserve, uninhabited, we highly recommend you to take with you supplies, because the last pit stops for you to purchase food are the towns. Cooked food can be purchased from lodges and huts (Gențiana, Pietrele, Buta, Gura Zlata).
Recommended visiting season: summer season is considered here to be from June to September. The great feed of tourists makes Travel Guide Romania to recommend you to either come at the beginning or at the end of the season.
Car parking lots: if you choose to come with your personal vehicle there are parking lots (usually nearby the foothill) where you can safely leave your car: Poiana Pelegii, Pietrele Lodge, Buta Lodge, Zlatna Lodge.
Travel Guide Romania invites you to visit this wonder of nature that will surely leave a deep impression in your memory.
Worth visiting in the area:
– Sarmizegetusa Ulpia Traiana – the old capital of Dacia– about 20 km from Retezat mountains. You can find a description here.
– Corvin Castle from Hunedoara – about 45 km from Retezat mountains
 Pentru versiunea in limba romana