Piatra Craiului Massif, whose mighty and sharp ridge constitutes one of the most representative tourist and mountaineering objectives of the Carpathians, towers on the western and north-western part of the Rucar-Bran Pass.
Perpendicularly inclined on the general direction of the Southern Carpathians, Piatra Craiului Ridge has the shape of an open bow. It stretches over approximately 25 km between the localities of Zarnesti (north) and Podu Dambovitei (south).
The entire massif and areas from the neighbouring mountainous passes were included in Piatra Craiului National Park, which was established in 1990. Piatra Craiului National Park stretches on the range of Brasov and Arges counties, including terrain belonging to the localities of Zarnesti and Moeciu, together with the villages: Magura, Pestera, Bran, Rucar, and Dambovicioara.
Piatra Craiului Massif is divided into three distinct subunits separated by distinct natural borders: Piatra Mica, Piatra Craiului (or Piatra Craiului Mare) and Pietricica.
Piatra Craiului Mare Ridge was conventionally divided into two main segments: Northern Ridge, the portion between Grindului Saddle and Turnul Peak, and the Southern Ridge, between Grindului Saddle and Funduri Saddle.
In order to cover the Northern Ridge of the Piatra Craiului Mountains in wintertime in optimal conditions, you need almost three days.
We propose a route that can be adjusted according to the hour of departure from Zarnesti, to accommodation options, to the team's fitness, and to their winter technical knowledge.

Departure point: Zarnesti Locality > Gura Raului lodge. If you travel by car, you can ascend until you pass Gura Raului lodge. If not, follow the blue stripe marker in the village, the red cross marker, or Curmatura lodge.
Don't forget to purchase the entrance tickets for Piatra Craiului National Park when you leave Zarnesti. You can buy the tickets from the vending machines found in Zarnesti or by sending an SMS.
Fee: 5 RON.
Necessary equipment – specific to wintery mountain trails – jacket and trousers against wind or rain/snow, base layers (preferably synthetic or merino wool), two pairs of gloves (one thin, and one resistant to rain/wind/snow), winter boots, snowshoe crampons, ice pick, sleeping bag for winter (fleece or synthetic – proper for low temperatures), sleeping mat (iso mat), sun glasses (ski shades), adjustable trekking poles.
Take light food that can be cooked in a portable gas stove.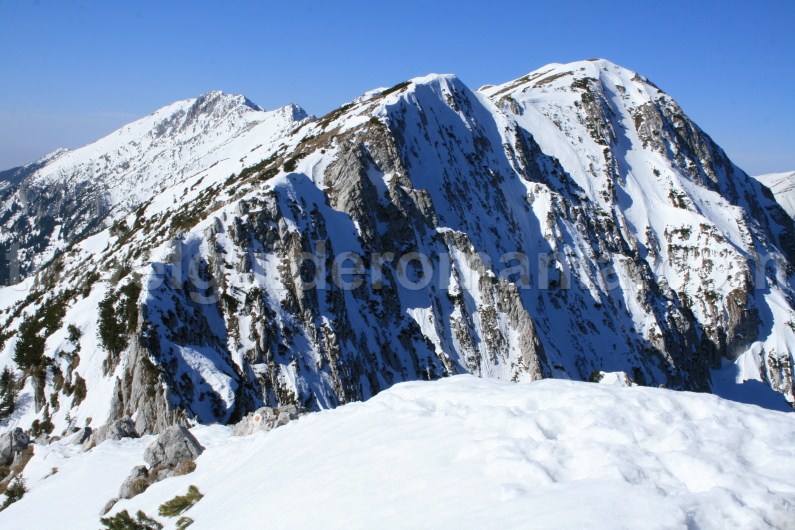 Phase 1: Gura Raului lodge – Curmatura lodge
The yellow stripe marker ascending to Curmatura Lodge starts from Fantana lui Botorog area (4 km upstream of Gura Raului Lodge) at 800 m altitude. Duration for coverage: 2 hours.
It is a route mostly through the woods with no difficulties. In case of fresh snow, you will have to leave trails, which entails an extra effort for the team.
If you decide not to take a tent with you, you can take shelter at Curmatura lodge for the first night, at Ascutit shelter for the second one, and at Grind shelter for the third night. Thus you will have lighter baggage that allows a faster coverage.
The only issue is that the shelters can be overcrowded, due to the fact that there is not much room there, so you can find yourself in such a situation in which you have no room to take shelter, especially in the weekend. Don't forget to book your stay at Curmatura lodge – 0745 454 184.

Phase 2: Curmatura lodge – Ascutit Peak shelter
You can get from the lodge (1470 m) to the main ridge via blue dot marker or red dot marker until Crapaturii Saddle. There is another blue stripe marked route until Padina inchisa Saddle. For safety reasons we suggest travelling via Crapaturii Saddle.
From here you ascend towards Turnu Peak (1923 m). You will encounter some passages with chains where you will have to climb. Depending on the difficulty of the on-site conditions, you will either use the crampons or not.
Once above the woods and mountain pines, there is a beautiful vista: to the right – Foii plateau – and to the left – Prapastiile Zarnestilor. The terrain is quite rugged and uneven, so you will have to use your skills as climbers.
The ridge is quite narrow. The route is for those who are familiar with the winter technique and have experience with other alpine trails in wintertime.
You can cover the distance from Curmatura lodge until Ascutit shelter in about 3-6 hours, depending on the team's speed.
When scheduling your trip you must take into consideration that the shelter at Ascutit Peak (2150 m) and the shelter at Grindului Saddle are the only shelters around Piatra Craiului Ridge. The other shelters are at least 200-300 m elevation level away from the main ridge.
Ascutit shelter's room capacity: 3-5 persons.

Phase 3: Ascutit Peak shelter – La Om Peak – Grind shelter
The ridge presents itself with a succession of small ridges, separated by gaps on both versants, which spring many valleys.
The south-western extremity of the ridge is interrupted by a deeper gap situated at the origin of Cioringa Mare canyon, from which you can descend to Cioringa Mare shelter via Vilcelul cu Fereastra.
From Cioringa Mare canyon south-westwards, along an approximately 600-metre ridge, there is an area called "Cymbals", dominated by three peculiar peaks due to their saddles: 'Great Cymbal' Peak (2177 m), the 'Between the Cymbals' Peak (2170 m) and 'Small Cymbal' Peak (2231 m).
South from the 'Great Cymbal' there is the Calinetului Saddle, which sets itself apart due to the prominence of some high rocks next to the springs of Padinei lui Calinet, which furrow the north-western versant. Once past the 'Between the Cymbals' Peak, the ridge becomes more and more uneven and rugged.
South-westwards from the 'Cymbals' there is the 'Ricks' area, formed by a series of rocky peaks along the ridge line until close to Baciului Summit, and are dominated on the central part by Zbirii Peak (2220 m). Off the 'Ricks', the ridge is sculpted by the springs of many valleys deepened on both versants.
From here, the Northern Ridge becomes wide and grassy, ascends abruptly, topping with La Om Peak (Baciului Summit – 2238 m). It is the highest peak in Piatra Craiului Mountains. From the area of the La Om Peak you can carry on with your route towards Grindului Saddle or towards Grind shelter (1610 m).
Be careful when descending during winter!

Phase 4: Grind shelter – Gura Raului lodge
You will have to follow the red stripe marker from the Grind Shelter and then switch to red cross marker. Because of forest clearance, you might find it difficult to orient yourselves in an area called 'At Tables'.
If you have a GPS you can load the route. The marker reaches Prapastiile Zarnestilor Gorge, a wondrous geological and natural view and then gets back to the road you left when you started ascending towards Curmatura Lodge.
Pentru versiunea in limba romana